Can you buy an awesome kids drone without breaking the bank?
Who says your kids have to be left out on all the fun when it comes to drones? Thanks to advancements in technology, there are all sorts of innovative and affordable (let's not forget that) drones for kids these days. Whether you're looking for a cheap drone for a 5-year-old which can be torn to pieces, or whether you're looking for something a bit techier for your teenager, there is no shortage of drones for kids
This means that you don't have to break the bank if you want to get your children interested in drone technology, or in reality just technology in general.
Also, using mini-drones or other drones aimed at children and youngsters is a great way of encouraging young ones to take an interest in filming and modern technology in general. You can never just what your kids want to do in the future, so every little bit of experience counts. For sure, if you get them interested in such fun technology as drones and aerial photography, you'll be doing them a favour.
Let's talk about some of the top drones for kids, children and youngsters. Perhaps your child is growing more fascinated by drones every day, and just maybe you are looking for the next perfect birthday present.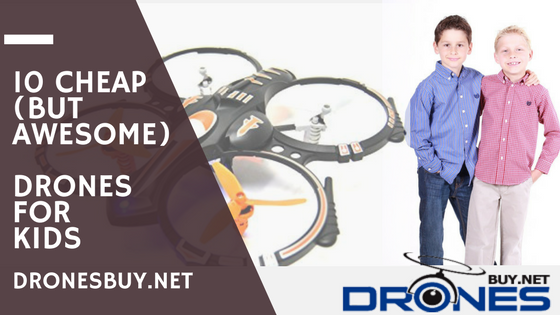 You've definitely made the right choice, as drones are a great gift to give your young ones.
You will see them play with it at every opportunity they get. This gives your child plenty hours of both indoor and outdoor fun not just for your kid, but even for you. Mini-drones are ideal for kids, because they are basic, and cover all of the features that a child would find appealing – whilst being affordable. You wouldn't want to get them an expensive drone only to see them the drone crash and burn (tragically for your pocket).
We write all sorts of news and reviews for drones. Have a look at our homepage for our top content.
Recommended Reading: Which Are the 5 Best Drone Kits from Amazon (2020)?
What should you look for in a good kids drone?
Controller
There are two primary ways in which a drone is typically controlled
remote controller that comes with the drone
smartphone-controlled drone using an app
Whether you go for one or the other is mostly a matter of preference but there is one thing which is typically important to consider.
Drones with a remote controller typically have a longer range of flight. This is because, most smartphone-controlled drones use Wifi technology to power the connection between the smartphone and the drone, which, by definition is limited in range.
On the other hand, drones with a remote control, typically use radio signals, which offer a better, longer range, which is less likely to encounter interference with other wifi-networks.
You'll find that remote-controlled drones tend to also be smartphone-integrated. Also, remote-controlled drones tend to be slightly more expensive than drones which do not requires a controller.
Flight-Control range
A factor that should also influence your decision when it comes to making a drone purchase is the control range of the drone. This is also a factor of the controller (just like we have discussed in the previous section).
Drones with no external controller, tend to be limited in range, whilst drones with their own controller, are bound to have a better range.
The control range also typically has a bearing on the age of the kid. If you're buying a drone or quadcopter for older children with more responsibility, an extended drone range would be ideal such that they are not severely restricted. On the other hand, allowing a younger kid to pilot a longer range drone, is a bad idea. In these cases, opt for a drone with a shorter flight-range.
Camera drone
Another important consideration when comparing kids drones will be the availability or not of a camera. Most drones these days will have a camera built-in, but there are still some drones that do not have a camera. The latter tend to be quite cheap, yet we do feel that quite a lot of the functionality and usefulness of the quadcopter is diminished if no camera is available with.
Even when considering drones with a camera, there are various qualities a camera can have. Just like the quality of a camera on a smartphone would differ, the quality of a camera on a drone will differ significantly too.
Primarily, you'll have to consider whether the drone is capable of taking:
Photos only, or photos and video
What is the quality of the camera (megapixels, the higher the better)
What quality of video the camera can take (720p, 1080p, 4K, 5.2K)
ISO (the higher the ISO the better for taking pictures in low-light conditions)
If you're only considering the drone as a toy for your kid, the quality of the camera won't be very important. However, if you're looking to buy a drone for a teenager, the likelihood is that they will be looking for a quadcopter drone with a decent camera, since they are more likely to be sharing the pictures they take with the drone on their social networks, with their Facebook or Instagram friends.
Flight-time or battery-life
This is another important factor to take into consideration when buying a drone or quadcopter for kids. This is actually quite significant because although the price of the drone might look attractive, it's going to be quite annoying if you discover that the drone has a very short flight time.
The cheaper drones are going to have a flight time of fewer than 10 minutes, even going down to 5-7minutes for the cheapest models. Quadcopters of higher-quality and price will typically have flight-times of 15 minutes or more, with the high-end drones, going up to 30 minutes.
If your kid is used to using an RC car with a battery life of 20 to 30 minutes, they're going to be fairly disappointed to find that the drone battery drains in a few minutes.
Note: for drones and quadcopters with a shorter flight-time, it is highly recommended to look for drones with exchangeable batteries. This allows you to buy multiple batteries such that you can extend the flight-time by replacing the batteries.
Fixed battery vs removable battery
Taking the cue from our last note, another factor which is important to consider when buying a drone for kids, is whether the drone has a fixed battery or an exchangeable battery. There is a very simple reason behind this logic. If your drone has a removable battery, you will be able to buy multiple batteries and changes them as soon as one drains, thus extending the fun/flight-time of your drone.
On the other hand, if the battery of the quadcopter or drones is fixed, as soon as the battery on the drone drains, your flight (and fun) is over. This reduces significantly the attractiveness of the drone for your kid.
Charging time
Given that we are on the subject of flight-time, battery-life and whether a battery is removable or not, another factor which should influence your decision is how long the quadcopter or drones takes to recharge its batteries. Significantly, one should also note whether the battery is charged directly on the drone itself, or whether this can be charged on a separate charging station or not (fixed vs removable).
Charging times for batteries can range anywhere from 45 minutes to a couple of hours.
Just like we've noted before, this taken into consideration with the flight-time of the drone and whether the battery is removable or not, will make a very significant difference to how long you can enjoy using the drone.
Fixed batteries, with short flight-times are a no-go (in our opinion) – they make for a very short and disappointing use of the quadcopter and drones which work in this way tend to be abandoned very quickly. On the other hand, drones with exchangeable batteries, shorter charge times and longer flight-times will provide quite a lot of fun and much less frustration (both for the kids and the parents!)
Recommend Age
Just like with most kid's games, you'll find that drones come with recommendations of the ages which the child flying the drone should be. For example, somebody in their late teens can understand that a drone such as the Mavic Pro, the Spark or the Phantom is not simply a toy. It's a gadget that can be used for recreational purposes, but its use may have consequences.
Anything from crashing the drone being an expensive affair, to privacy and safety issues concerning the use of a drone.
These are of course completely lost on kids which are younger than 10 years, or even younger. That doesn't mean that you shouldn't buy them a drone. You should opt for a drone which is more adapted to their age. For example, there are drones whose parts are very easily replaceable.
There are drones that are practically indestructible in most kid's hands.
There are even waterproof drones if you live in an area surrounded by water, or where water is prevalent.
Dimensions and weight of drone
Drones and quadcopters come in all shapes and sizes. Whilst some drones can be literally folded and put in your pocket, others get bulky and need specific cases to be carried around.
There are nano and micro-drones, which are tiny, mini-drones which typically fit in your palm, and then drones which keep getting larger and larger in terms of their size.
Even such companies as DJI have drones that start with Spark (mini-drone), the Mavic (small, portable drone), the Phantom (relatively large drone) and the other drones such as the Inspire and Matrice series.
If your kid is likely to get very attached to their toys and would want to carry it around anywhere they go, you might want to consider a drone that is smallish in size. If the kids' drones will be mostly used at home, you don't have to limit yourself to the size of the drone.
In terms of portability, one needs to also consider the actual weight of the drone. Whilst smaller drones tend to be light in weight, the more advanced drones such as the Phantom are much heavier.
Again, a consideration to keep in mind, if your kid is likely to carry their drone or quadcopter around whenever you got on a trip where space is more limited.
First -a comparison table of drones for kids
We have compiled a list that takes into consideration the price and quality of the drone. You want a drone that is affordable, but you don't want one that works for only a few weeks or can't take a couple of hits (because you know just how kids are). Also, you don't want one that is high quality but too expensive for a child to play with.
Take a look at some of the best drones for kids on the market this 2017!
Kid-friendly drone – SYMA X11C
Price: $35
Controller: Remote controller
Range: ~90m
Camera: 2MP
Flight-time: 5 minutes
Battery-type: Removable
Charging time: 1 hour
Recommended age: 14 and up
If you are looking for a great drone for your kids, then the SYMA is definitely a good option. SYMA have gained a lot of popularity in recent years because of their quality in every piece of drone technology they produce.
It is also one of the best drones that you can get for someone who is a beginner in drones. Their more commercial units, which are the X5 and X8 are very popular on the market, but this edition is one that your kids would appreciate.
It is a child-friendly drone and it is very easy to get started with this quadcopter.
As you can see from the picture above, the Syma X11C kid-friendly drone comes with propeller guards by default. Prop-guards are a must-have for kids who are flying their very first drone. The guards ensure that neither the drone, nor anything else which is hit by the drone is damaged – including, other people!
This unit comes with its own built-in 2MP camera of 2MP. The camera is not ultraHD like you would see on modern drones today, but it is definitely something that your kid would appreciate. It saves all files that are recorded on a MicroSD card that is 4GB. The 6 axis stabilization gimbal system creates a stable flight, and your kid can control it from 100 meters away. The battery life can also support up to 7 minutes flight-time, depending on how you use the camera.
Holy Stone HS170 Predator Mini
Price: ~39.99
Controller: Remote controller
Range: ~50m
Camera: N/A
Flight-time: 7 minutes
Battery-type: Removable
Charging time: 60 – 80minutes
Recommended age: 14 and up
This is an emerging drone on the children's market.
It has become a bestseller on Amazon in 2017 because of the sleek design and technology used in creating this drone.
It is simple to use and easy to understand, allowing your child to have the best possible experience. This children's drone comes with a headless security system, that allows people with any level of training to fly the drone seamlessly.
This is a useful feature so that your kid doesn't crash the drone the first few times of using it and cause damage to it.
It makes use of a 2.4Ghz system that has minimal interference. The 6 axis gyro system of this drone provides very stable flight, and would provide very still images. It is also windproof, and can be controlled from up to 50 meters away.
This is one of the great drones for children on the market with a flight time of 8 minutes. It takes about an hour to get fully charged.
UFO 3000 LED Drone
This is another drone for kids that has developed a lot of relevance on the market recently.
You shouldn't be surprised to see this drone dominate your searches for kid's drones on amazon.
It comes with an Ultra bright LED that looks great in the daytime and even better at night. This is the ultimate play toy drone for your kids when it gets dark.
Apart from just the LED and the appearance, it also comes with a bag of tricks like the 360 spin at just the touch of a button.
This drone was designed to give kids the ultimate experience. It comes with an ultra-fast feature. This allows the drone to zip through the sky at unbelievable speeds (at least for such a small drone).
It is also a drone that appeals to both boys and girls because of its unisex colour scheme. It is amazing for all beginners and children that are just beginning the use of drones.
It can last for 9 minutes in flight, and comes with a bonus battery that would double the playtime.
ULTRA BRIGHT LED DRONE: Designed with vibrant LEDs all over so that you can fly at night in the dark
3D STUNTS: Light up the night sky with awesome stunts and 360º flips with the push of a button
ULTRA FAST: It's compact design and precision steering will allow you to zip around at high speeds
Buy Now
Cheerson CX 10C

Cheerson is another company that has a good reputation when it comes to drone production. You may have heard about their more popular drones like the CX-20, but this is a lot more affordable and appealing to kids than that specific drone edition.
Its design features a simple and compact build that hinges on durability.
Kids are naturally playful, so the design brings into consideration extra strength. This quadcopter comes at an amazing price that is suitable as a children's toy drone.
The camera is 0.3MP, but don't be deceived by this, as the camera delivers surprisingly great quality.
The camera quality is greater than a lot of $50 drones, so you shouldn't be alarmed just yet.
The control distance is 20 meters, but it is very handy and gives you a very smooth flight.
All of the recorded files are saved on a MicroSD card, which can be connected to your computer to take out the files. If you are looking for a low budget and handy drone for your kids, then this is definitely one to consider.
With 0.3MP camera can Video/Photograph
3 flight speed mode
Low voltage alarm
Buy Now
RC Stunt Drone Quadcopter
If the damage or durability is your major concern when getting a drone for your kids, then this is one of the best units for you to consider.
Children are naturally a tad careless, so you don't want to buy a drone that is too delicate, as it may get damaged within just a few days.
This particular RC drone is crash proof, ensuring that you don't have to worry about it getting damaged.
It comes with a remote controller and 2 batteries so your kids can charge one while the drone is flying with another.
The blades are also replaceable.
The control distance of this drone is 50 meters, which would give your kids ample room to play around with the drone.
It is easy to use for every beginner, and the bright orange design is one that would see your kid's faces filled with awe.
It comes with a 6 axis stabilization system for a safe flight, and the camera is very clear. It can also be used for indoor flying.
It is also necessary to consider the age of your kids when buying a drone. Not all drones are applicable for all children. So let's take a look at some drones by age group…
RC Drone with 2MP Camera(1280x720 Pixel),4 Kind of Sensitivity Modes for any level of player,Let you can change another wany keep happy at your side.
One Button to Return:Never get lost,Compass mode fused with the "one button to return" orientation mode will alow you to control the drone to fly safely to places even beyond your visiomn and return with a press of a button.
The RC quadcopter uses the 2.4GHz remote control technology, adopts the 2.4GHz remote control technology, and the operations become more accurate, the remote control distances become farther, the reactions become more sensitive.
Buy Now
SYMA X1 4 Channel Drone (Below 10 years)
If your kid is below the age of 10, you probably need a drone for kids that is not very expensive, and easy to operate.
This makes the SYMA X1 the basic drone for your kids within that age group.
It comes with a controller that incorporates a basic 3 way movement system. Up or down, left or right and forward or backward.
This easy control system enables your kids who are under the age of 10 to have a fun time while playing with the drone.
There are two different fly modes, including an indoor flight mode and an outdoor mode. It comes with a 360 spin function, which your kids would find very fun to play with. It has a 3 axis stabilization system that makes use of gyro technology in order to give your kids a safe flight.
The camera quality is also quite clear for kids of that age, and the 2.4GHz radio system would stop all forms of interruption.
Stabilty and agility in flight simplify professional 3D maneuvers like pirouettes 3D fun flips,rolls,and more.
2.4GHz Radio control
3 way precision controller: up/down, left/right, forward/backward
Buy Now
National Geographic Quadcopter Drone (10-14 years)
If your kid is between the ages of 10 to 14 years old, then you need a kids drone that is easy to use, durable and still fun.
It comes with a number of fun, easy to understand features that would see your kid have a great time.
This drone is controlled with a remote control that is simplified. It has an auto orientation system, so it would not crash easily just in case your kid is still getting the grips of flying.
It allows your child to perform simple functions like take-off, landing, 360 spins and lots more. It also has some speed settings that are built in, which give the drone more maneuverability and control. The flight time on this drone is 10 minutes from just a single charge. It also has a standard 6 axis system that enables the drone to remain stable during flight. It comes with a USB charging cable, which means you don't have to go out to buy accessories.
Easy to use - With a kid-friendly design (age 14+) and an easy to use remote, our quad drone is great for novice pilots Auto-orientation and 1-button controls allow you to take-off, land and perform 360-degree flips, while built-in speed settings offer maneuverability and control.
30% Longer flights - Premium rechargeable LiPo battery helps drone flies up to 10 minutes on a single charge! Paired with a 6-axis stabilization system and an altitude hold function, you can glide, race and soar through the air while maintaining safe, stable flight.
Complete Kit - For no-hassle flights, each drone copter comes with everything you need! You'll receive a USB charging cable, landing gear and 4 propeller guards as well as 4 spare propeller blades. For added convenience, no FAA registration is required in USA.
Buy Now
SYMA X5C New Version (14 and above)
If your kid is above the age of 14, then you need a slightly more advanced drone for them to play with. This is because they would have more control over the drone, and would like the unit to perform a lot more functions. This is where the SYMA X5C comes in. It is designed to look like a professional drone, but comes at an affordable price, and is still very suitable for children. It comes with a li-poly battery that is suitable for flying the unit inside and outside the house.
The standard flight time of the unit is 10 minutes, and it can get fully charged in less than an hour. It comes with a 360-degree spin function and a 2.4GHz control system. It also used the standard 6 axis gyro stabilization technology that would ensure you get a safe flight. The camera is also in HD quality, ensuring that your kids get the best footage. It also comes with a light that allows for night time flying.
It also comes with a light that allows for night time flying.
Now let's take a look at the most expensive and most affordable kid's drones that you can find anywhere on the market…
Equipped with HD camera
Perform flips at the press of a button with 360 degree eversion, Wind resistant and can be flown indoors or outdoors
6-axis Gyro stabilization system ensures maximum stability during flight
Buy Now
The most expensive drone for kids on our list is…
HolyStone RC Drone with HD Camera U818A
This is the most expensive drone on the market currently that is still within child-friendly parameters.
Don't get me wrong, it would have been easy to include a drone for kids that is over $500, but we are still going with the basic kid's parameters which include price, functionality, and durability. The drone that ranks the highest based on these parameters for 2020 is the HolyStone U818A.
It comes with an HD camera that can capture pristine aerial footage and deliver up to 720HD pictures. It also comes with a headless mode, which allows for an easy flight and better control even when your kid is just getting the grip of the drone.
It has the basic 6 axis gyro stabilization technology, which enables easy handling and can allow your kid to perform 360-degree flips. It is fun and easy to operate because of its quad design. It also comes with a bonus battery, which allows your kids to fly the drone while another battery is still charging.
● AMAZING FLIGHT CONTROL: Equipped with a 6-axis gyro stabilizing system, headless & auto return mode, and 360-degree flip capability, this rc quadcopter with camera is a joy to pilot.
● CAPTURE EVERY MOMENT: We've fitted a 2MP HD quadcopter camera on the remote control drones for crystal clear recording, complemented by a 4GB SD card and card reader.
● EXPERIENCE NO INTERFERENCE: The transmitter of this quadcopter with hd camera features 2.4GHZ technology, significantly reducing interference from other flying quadcopters.
Additional images:
Buy Now
Fast Lane Radio Control Nano Drone
If you are looking for a very affordable drone, then this is the most affordable on our list. At just $15 bucks or thereabouts, it's the cheapest drone for kids.
It comes with a ready pack and remote control that allows for easy control. This drone is very small in size but has a lot of power. It is very enjoyable to play with. It is just 2 inches, and it comes with three different flight modes that your kids would absolutely enjoy.
You can also adjust the drone according to a particular skill level, which makes it suitable for different age groups. It is also capable of performing 360 flips, and it comes with LED lights for navigation when it is night time.
This cheapest drone for kids can also be stored inside the controller, which is very handy and makes your kid's room tidy. It makes use of a non-interfering radio control system. It can also be charged within minutes, increasing your kid's playtime.
It's time for high-flying fun with teh FLX Nano Drone from Fast Lane! Small in size, but packed with power, this 2 inch drone features 3 easily adjustable flight modes to adjust the drone according to your skill level. The FLX Nano Drone performs 360-degree flips and includes flashing LED lights for directional navigation! When [...]
Buy Now
So, have we convinced you to buy a drone for kids? Whether it's for their birthday, Christmas or just because they deserve a gift, the above quadcopter drones for kids will keep your kid amused for a very long time!
‌